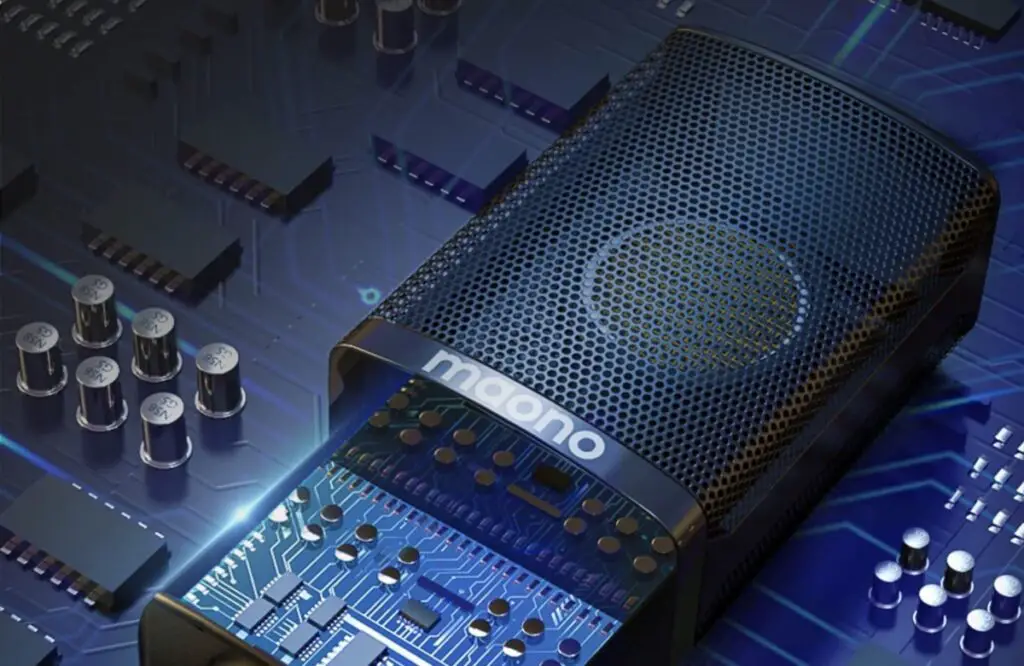 Looking for a great microphone for recording vocals, voiceovers, and more that won't break the bank?
Well look no further than Maono's AU-PM500T large diaphragm condenser microphone.
By the way, I received this microphone for free from Maono in exchange for an honest review. They did not pay me to write this review. I only recommend products that I use and love, have used, or have researched thoroughly from authoritative sources.
Maono AU-PM500T Specs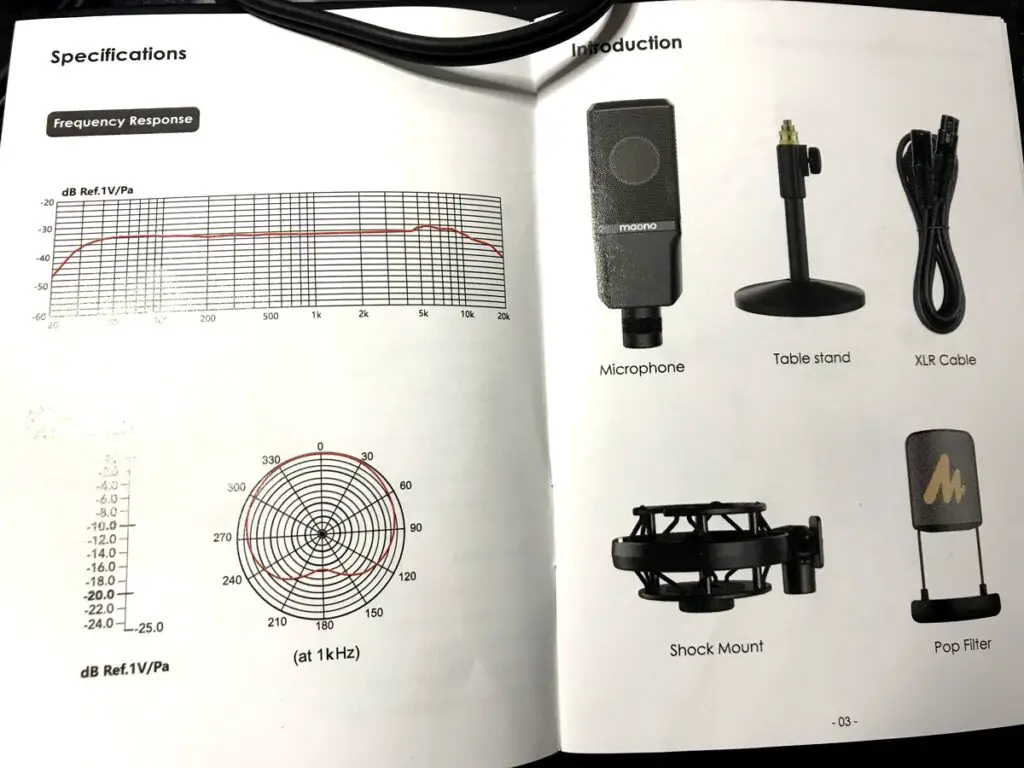 Quick Stats
Cardioid polar pattern
Large diaphragm condenser microphone
Mostly linear frequency response with a slight boost between 5KHz and 10KHz and roll-offs at 10KHz and 40Hz
Dynamic range of 20Hz – 20KHz
Pros Of The Maono AU-PM500T
Let's cover the pros of the Maono AU-PM500T. What is it good at?
Studio-Quality Sound
PM500T XLR microphone offers a wide dynamic range of 20Hz – 20KHz, which you don't always find for mics in this price range.
I was also impressed with the clarity and precise quality of the mic. It was able to pick up fine details which is what you want from a condenser mic.
Overall, the quality of the sound offered a detailed, rich, smooth, and pleasing sound, which is excellent for both studio and home recordings.
This is now my go-to mic for both vocal recordings and recording YouTube videos.
Well-Built
The mic feels well-built and solid, and contains a custom-designed 34mm gold spluttered condenser capsule.
The circuit design utilizes premium components from top-tier manufacturers and a tailor-made permalloy audio signal transformer to provide low self-noise and exceptional sound capturing.
I found this to be the case in my testing, as I couldn't detect any noise floor.
This is a professional studio-grade XLR large-diaphragm condenser microphone designed for vocalists, music instrument performers, podcasters, live streamers, and audio professionals.
The body of this XLR condenser microphone is made with zinc alloy and treated with multi-layer coatings.
It is sturdy, durable, and functions as an electromagnetic shield to give a purer audio signal.
The included metal pop filter, shock mount and desktop stand can protect the microphone all-around, it isolates the mic from physical vibration.
All The Accessories You Need
In addition to the microphone itself, Maono doesn't leave you high and dry when it comes to the other accessories and equipment you'll need to record professional vocals.
Included in your package are:
1 XLR condenser microphone
1 metal desktop mic stand
1 shock mount
1 metal pop-filter
1 XLR to XLR cable
1 user manual
1 Maono 12 month warranty service
With most other mics, you'll be required to buy, at the very least, a mic stand, shock mount, and XLR cable separately.
With this product, you get everything included, which is very nice.
I especially like the metal pop-filter, which easily clips on to any portion of the shock mount, and is much easier to clean than a cloth pop-filter.
Is the Maono condenser mic good for singing?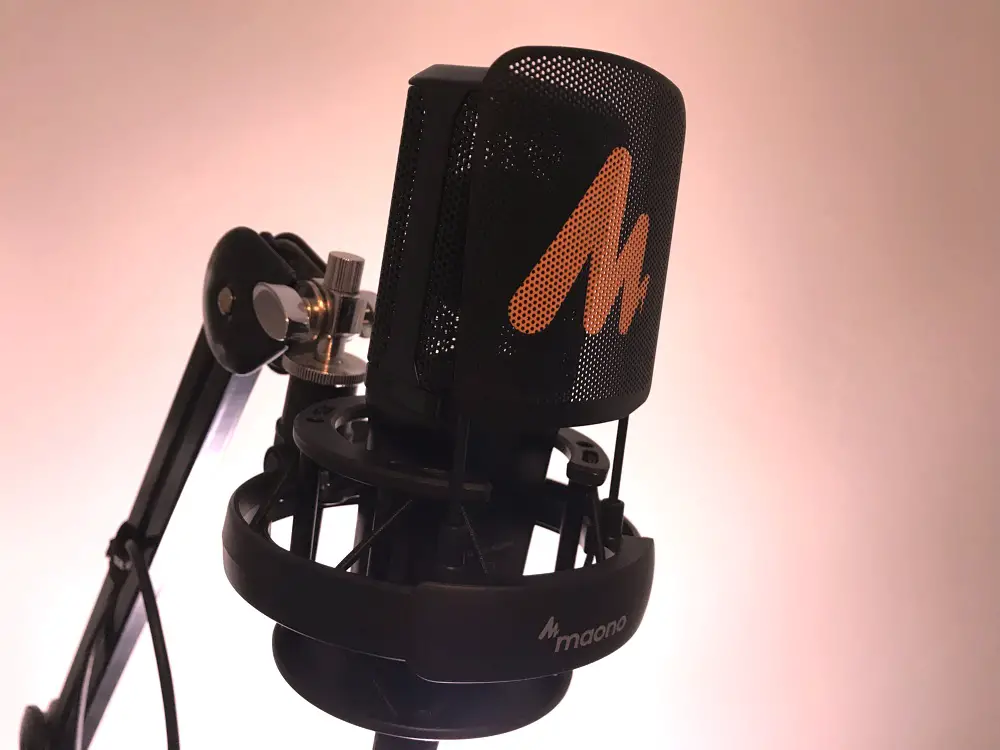 The Maono AU-PM500T condenser microphone is excellent for recording vocals and singing. It gives vocals a rich and clear sound while also providing a slight boost in presence to help the vocal performance cut through a busy mix.
When Maono first reached out to me about reviewing their microphone, and I checked it out on their website, I was a tad skeptical that it would be good for recording singers and vocalists.
This is because Maono positions their microphone as being designed for:
Professional dubbing
Live streaming
Live game explanation
Network audio production
And personal recording
I was thinking that a microphone designed for content creators might not stand up as well when it comes to vocal recording.
But I was proven wrong!
The Maono AU-PM500T condenser microphone is excellent for recording vocals and singing, and I was very pleased with the recordings I produced with it.
The Maono condenser mic is now my microphone of choice when it comes to recording vocals (and YouTube videos) in my home studio.
Cons Of The Maono AU-PM500T
Now for the cons. Does the Maono AU-PM500T have any?
Not Really Any Cons…
For this price range, I couldn't really detect any cons.
Of course, your high-end studio microphones which can set you back thousands of dollars will have more bells and whistles (pads and built-in EQ switches), and perhaps slightly more detail and clarity, but this isn't even necessarily true.
If I had to nit-pick, I would say, depending on your vocal and your track, you'll probably have add some EQ in certain sections.
With it's built-in boost in the 5KHz-10KHz range, you're not lacking for presence, although you do have a roll-off above 10KHz, so if you're wanting some top-end shimmer on your vocals, you'll want to give it a high-end shelf boost.
I've heard other people say that mic can sound a little thin, and perhaps this is true for stand alone voiceover performances or podcasting where a deep vocal sound is desired, but I don't find this an issue at all for recording vocals.
I actually find the Maono condenser mic quite rich in the low-mids, which is a range you typically cut on vocals anyway to reduce mud in your mix.
Top-to-bottom, I'm very happy with this mic and plan on using it as my primary mic for all my recording needs.
How You Can Make Your Maono Mic Sound Better
There's not a whole lot you need to do to make your Maono AU-PM500T condenser microphone sound better. I was pleasantly surprised by how good the raw recordings sound with this mic.
That said, if you are looking for upfront vocals that cut through your mix, you might want to use EQ to shelf-boost a couple of dbs above 10KHz.
Speaking of upfront vocals, check out my article here for a compression hack to ensure your vocals sound professional and cut your your mix every time.
Also, depending on your vocal performance, the high-mid boost built-in to the microphone will likely require you to perform some DeEssing, but this is common even when recording on the most expensive of microphones.
Also, if you're recording in a less than ideal environment that isn't acoustically treated, and you have a lot of noise going on around you…
You may pick up some undesirable sounds, as this is just the nature of condenser microphones. They are very sensitive so they can pick up great detail…but they can also pick up stuff you don't want.
The good news is that the undesirable sounds can be removed using a tool like iZotope's RX.
If you don't want to get iZotope RX, then just be sure it's quiet around you when you record, and throw up some acoustic treatment or blankets and couch cushions in your room before recording.
Should You Get The Maono AU-PM500T?
If you don't have a condenser microphone, or don't have an XLR microphone of any kind, and you're looking to record vocals or voiceovers, then the Maono condenser mic is an excellent option for you that I highly recommend.
That said, even if you already have a condenser microphone (like I did) but it's cheap/entry-level, the Maono AU-PM500T is definitely a step-up.
If you're ready to get this great microphone for yourself, then just click here.