If you're looking to get started with DistroKid and you want to make sure you get the lowest price possible, then you're in the right place.
Just click here to get 7% off your first year with DistroKid.
This is the lowest discount that DistroKid offers.
Get DistroKid 7% Off
Get started with DistroKid and get access to all of their great tools for distributing and promoting your music.
How To Claim Your DistroKid Discount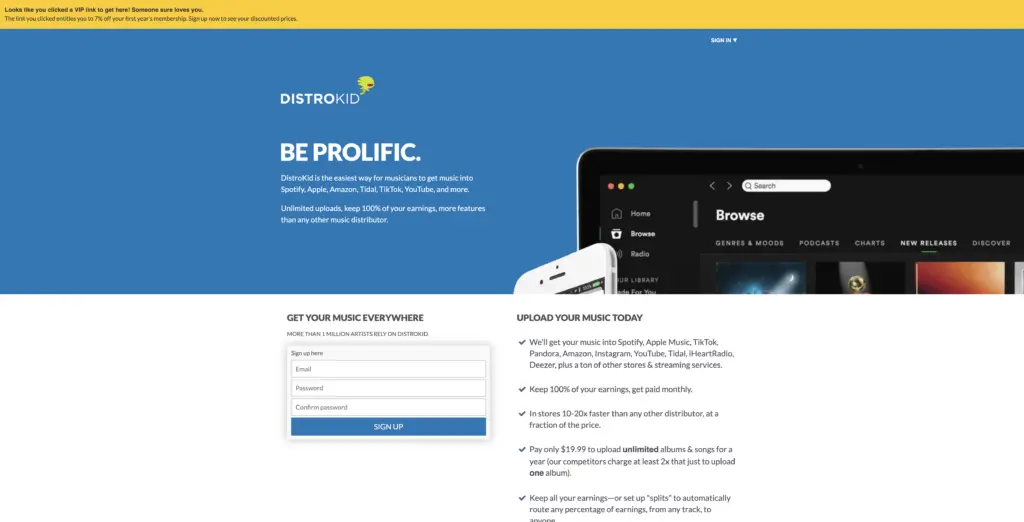 When you click on my discount code here…
You'll be taken to a page that looks like what you see above.
From here, all you have to do is enter the email you want to use for your account in the field below, and then set your password.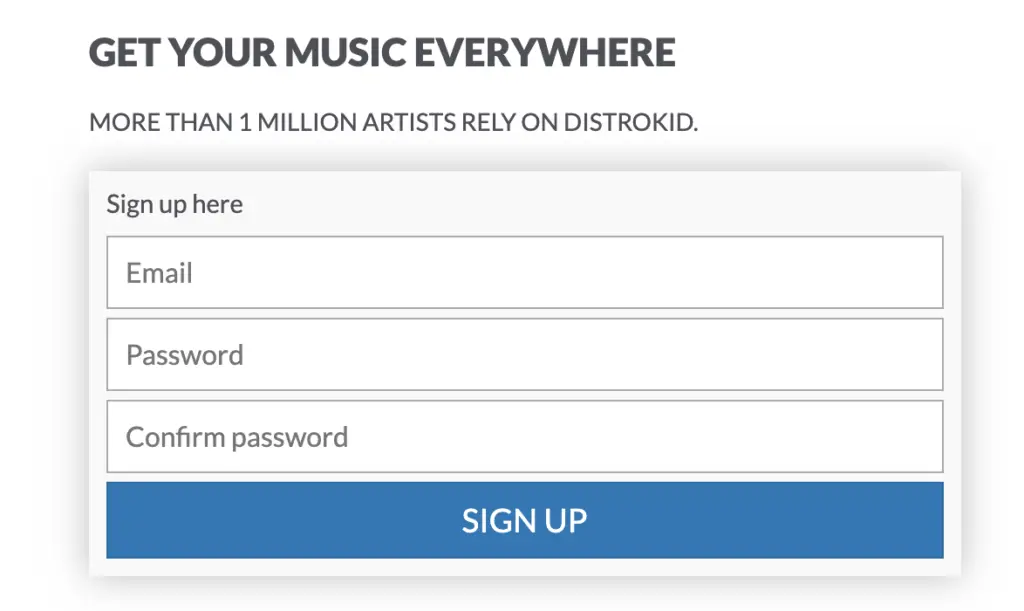 How To Choose The Right DistroKid Plan
Next, you need to actually choose your payment plan.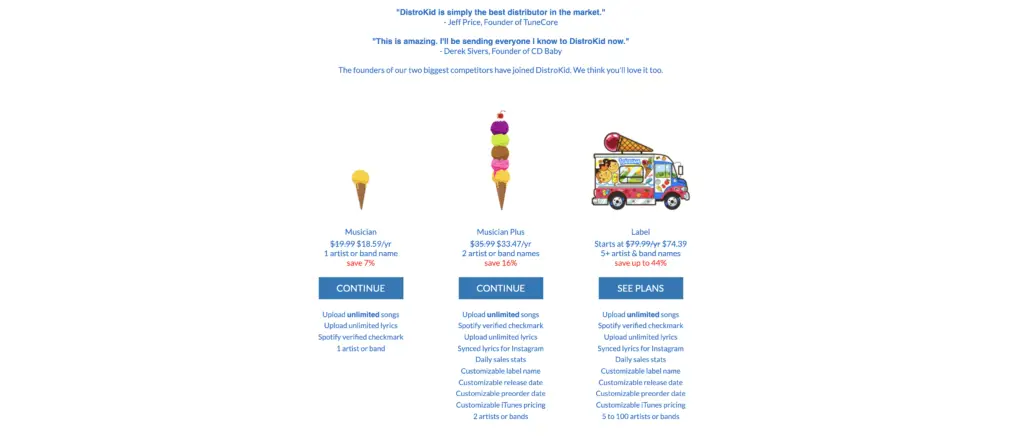 If you want to learn more about these DistroKid payment plans, and which one is best for you and your unique situation…
Then check out my article here breaking down the different DistroKid pricing plans.
But in short, you can choose the "Musician" plan, which is the cheapest, or you can pay a little bit more and get the "Musician Plus" plan where you'll be able to upload music under two artist names, and have more customization options.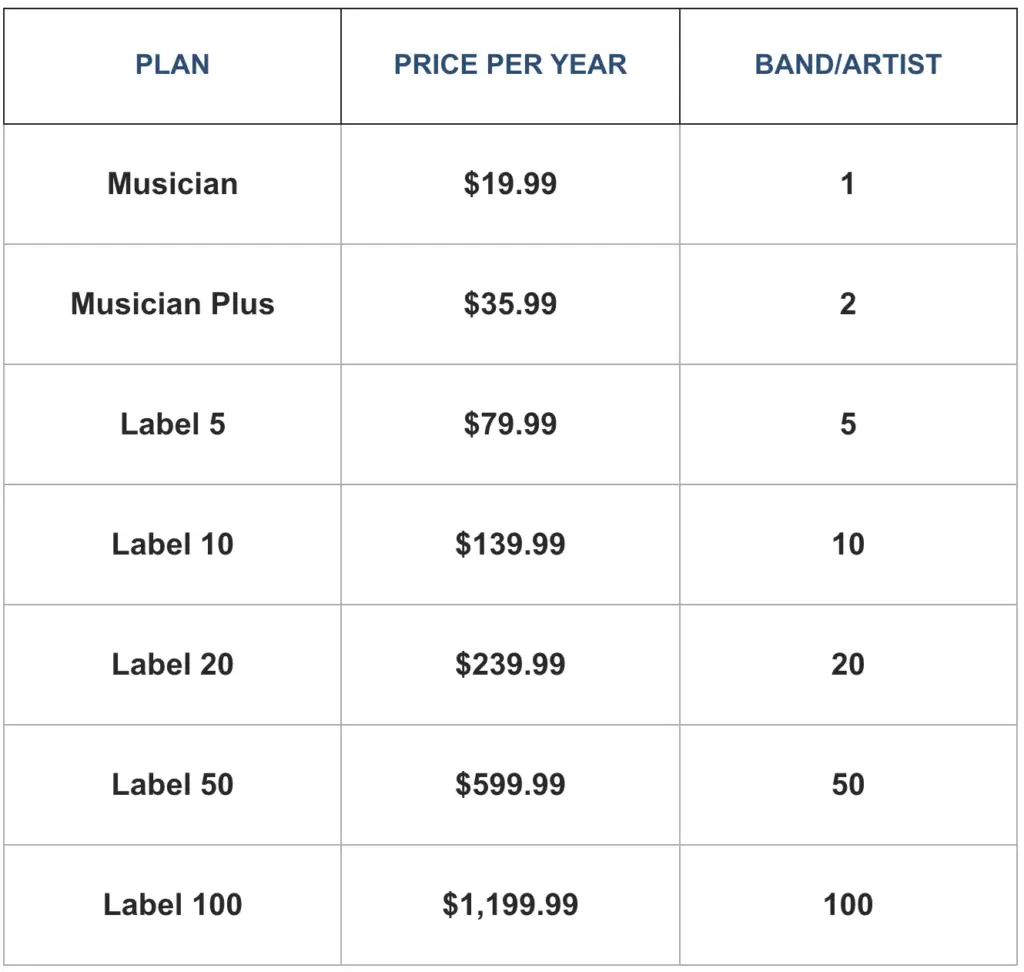 The final step is simply to put in your payment information and then you are good to go and start uploading music, building your fanbase, and bring in streaming royalties.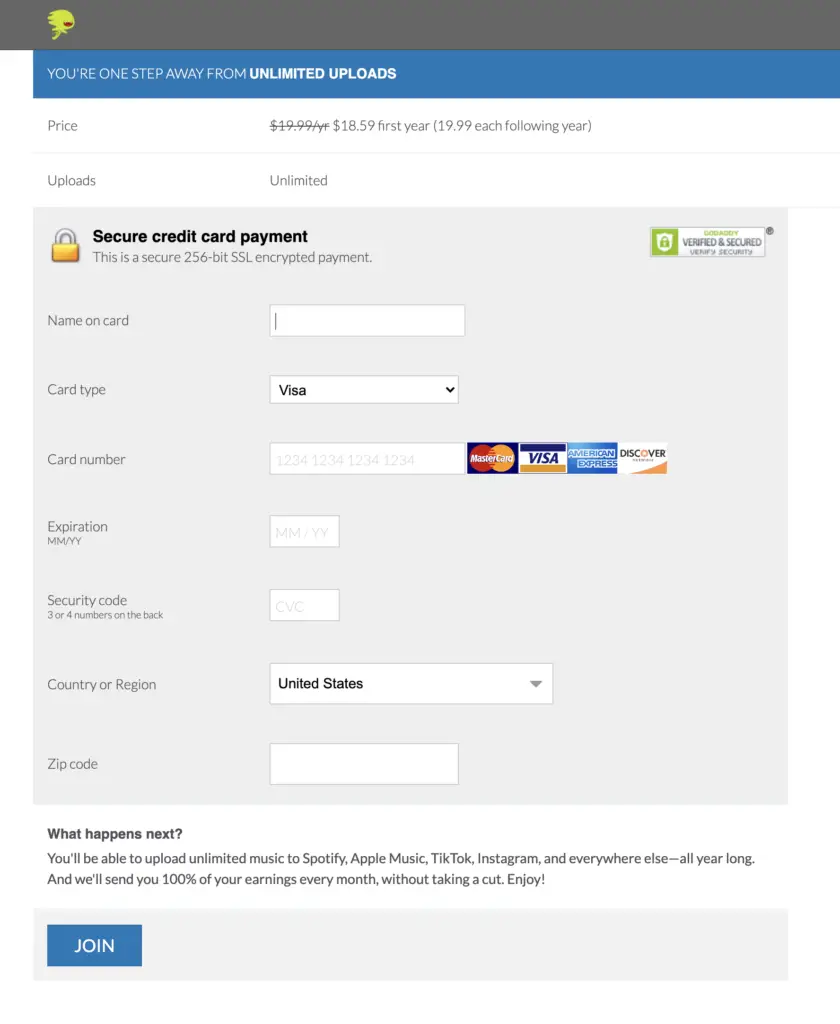 Will DistroKid Take A Percentage Of My Earnings?
DistroKid does NOT take a percentage of the money you generate from your music's streams and sales. 
Hallelujah!
DistroKid makes their money from the annual membership/subscription and from any optional features you would like to use.
The fact that DistroKid does not take a percentage and allows you to upload unlimited songs and albums is a huge reason why I think they are best music distributor on the market. 
Get DistroKid 7% Off
Get started with DistroKid and get access to all of their great tools for distributing and promoting your music.
DistroKid Alternatives: Are There Any Better Deals?
There are a bunch of music distributors out there, I haven't found one better than DistroKid yet.
I've personally used CD Baby in the past, before I switched to DistroKid.
You can check out my comparison of CD Baby vs DistroKid here.
How DistroKid Helps You Grow Your Fanbase
DistroKid is also amazing in that it has a ton of built-in FREE tools to help you grow your fanbase online.
These tools include:
Large Spotify playlists to which you can submit your music
A landing page creator tool (called Hyperfollow) that lets you build your pre-saves, streams, and mailing list
Mini-video creator to create short videos to promote your music
A meme-video generator to create short funny videos to promote your music
A graphic generator tool to create images to promote your music online
And more!
For my complete tutorial on how to use DistroKid, and how it can help you grow your fanbase, check out my video below:
How You Can Skyrocket Your Spotify Streams
Once you've signed up for DistroKid, it's time to release some music.
But just getting your music onto different streaming platforms like Spotify isn't enough to get heard and actually make an income.
It's a myth that you "just need good music" to get discovered these days because there is just too much music out in the world (and on streaming platforms) now.
You have to help these platforms share your music.
The good news is that I've found a simple step-by-step system you can follow to "hack" the Spotify algorithm so that it promote your music for your.
This system will help you get your music on tons of Spotify playlists, which in turn, will help your music to land on Spotify algorithmic and editorial playlists.
If you want to implement this system for yourself, then just grab my free step-by-step guide here.
---
Get Your Songs On Spotify Playlists
Click below to download my free guide covering a simple formula you can follow to get your songs on Spotify playlists and explode your streams without spending a dime!
---
Beyond this, if you're wanting even more help with growing your Spotify streams…
Check out my article here on how to get your music onto Spotify editorial playlists.
Or, read my guide here which shares with you 22 different amazing tips for growing your Spotify streams.
Or, if you're wanting a big-picture guide on how to actually make a full-time income from Spotify, click here.
I hope you found this post helpful! If so, feel free to share with all your other music friends.
Otherwise, let me know in the comments below…
What other questions do you have about growing your streams?